I often see things that are totally not necessary that I want. Don't we all?
Here are a few things that are on my wish list at the moment.
1: This MacKenzie-Childs tea kettle is just about the most perfect thing I've laid my eyes on.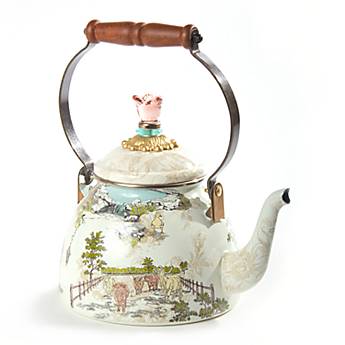 It was featured on The Pioneer Woman website last week. She was giving three away.. and of course I didn't win it. If I did, I would have posted a picture of me holding it and bragging .. I won! I won! This is one of those pieces that could inspire a whole room. Someday when I have an extra 20 grand laying around, I'll design a new kitchen around this tea kettle. Then I will make some tea and all will be right with the world.
2: Get a load of this beautiful Le Creuset Dutch Oven!

I am getting serious here folks. Now that I am a thirty something.. it's time I get down to business and get one of these for my kitchen. They come in a variety of beautiful colors. But this fennel color just speaks to me.
3: Get a load of these Corral boots.

Aren't they stinkin' cool!? What do you think Charm would think of them? I love how the design is subtle and the color is just perfect. They kinda match the background pattern of the tea kettle! Ha!